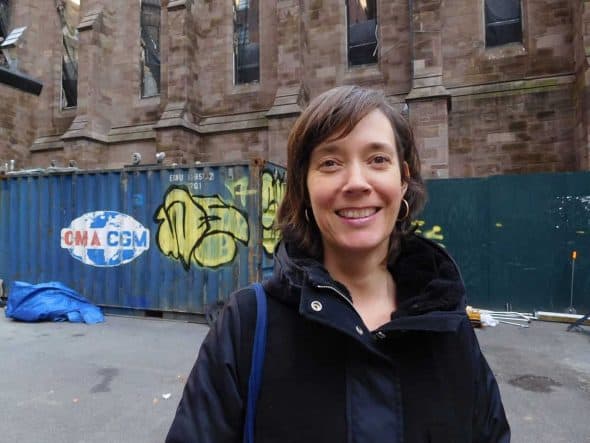 My name is Naomi Blindeman. I am a lifelong Amsterdammer and I'm always inspired by the city. As a professional website designer/builder I often make house calls and I have some of my best ideas while riding my bicycle to and from those meetings. But not all of my work is local. I have website clients in Greece, Curacao and the United States thanks to Skype, telephone and email, and I enjoy having such a diverse clientele. You'll find examples of the work on my portfolio page.
I'm also an instructor at MK24, a venerable art school here in Amsterdam, founded in the 1950s to offer art education to anyone who wanted it. As part of the school's newer Multimedia Lab, I teach courses in WordPress and Web Animation, Interaction & Design.
If you would like a telephone or Skype consultation, please email me.
In all aspects of my work I am driven by curiosity and love for the Internet. The World Wide Web, with its endless possibilities for expression and publication, is something I find captivating. I believe there is no better or more powerful tool than a good website.
What I enjoy most is gathering together a client's ideas and wishes and turning them into something concrete, in the form of a website that meets their needs and expectations.
Related Experience
Prior to joining the faculty of MK24's Multimedia Lab and my web design work, I taught creative writing at the municipal art school of Delft (VAK) and for the Language Press Workshop in Amsterdam.
In addition to teaching, I served as a consultant to primary schools on the subjects of writing education, literacy for young children, and developing general communicative skills.
I also trained specialized instructors to teach poetry writing to mentally disabled adults. For this project I collaborated, within my creative partnership of Blindschelders & Raadsman, on the development of an interactive educational CD-ROM and textbook.
We've done a number of projects that involve writing and the computer, including our 'moving poetry' series, exhibited at the National Night of Poetry and the University Museum, both in Utrecht.
Education
My own education includes a year of Technical Innovation Sciences at the Technical University of Eindhoven, and a BA in Creative Writing and Creative Writing Education from Hogeschool voor de Kunsten Utrecht. My other certifications include a Certificate of Proficiency in English from Cambridge University in England and a PHP Professional Certificate from Eduvision, Utrecht.
Skills
In addition to using PHP, jQuery and MySQL in my work, I regularly use and teach HTML5, CSS3, animation and WordPress. I also do hand-drawn illustrations for use in website design when a job requires it.